Shoe trees are crucial in extending the life of your shoes. How do they work? Sweat from feet gets absorbed into the lining of shoes, which not only leads to foul odors but can cause the lining to rot. This is also especially harmful for leather shoes, as excessive moisture from the inside can cause the finish to crack over time. To solve these issues, shoe trees modestly stretch out shoes while they're drying to help preserve their original shape. For your more expensive shoes, you'll want to splurge on a cedar shoe tree, which naturally helps absorb moisture. There's also a range of lightweight and slimmer options available, often done in plastic, that are perfect for fitting women's shoes and packing for travel. Below, we've rounded up some of the best shoe trees to keep your footwear in amazing shape.
For more than 75 years, Footwear News has been the shoe authority. Our coverage spans top industry news, retail trends, head-to-toe fashion, athletic and outdoor analysis and more. Footwear News' global network of editors has carefully curated all product selections featured using our expansive brand knowledge and thorough research to find quality, long-lasting items. If you purchase an independently reviewed product or service through a link on our website, we may receive an affiliate commission.
1. Stratton Cedar Shoe Tree
With a long, crafted heel and luxe cedar wood finish, this pick is great for keeping prized pairs in tip-top condition.
Pros: Cedar wood absorbs moisture to help prevent cracks and creases in leather and keep shoes smelling fresh. A gentle spring coil is made to accommodate pairs up to a men's size 16.5. What's more, the elegant style features a branded gold plate and comes as a pack of two, three or four.
Cons: Some may find them tricky to get in and out of the shoe.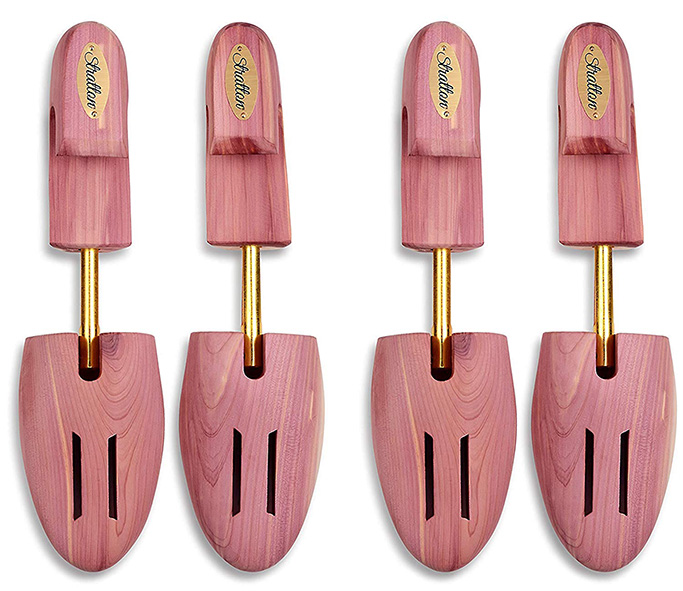 Stratton shoe tree.CREDIT: AMAZONBuy: Stratton Cedar Shoe Tree $44.99BUY IT
2. Eachway Shoe Tree & Stretcher
This plastic option features a slim profile and split-toe design that better fits women's shoes like flats and pumps.
Pros: Doubling as a shoe stretcher, it can be used to broaden the length and width of too-tight shoes. It comes with attachments to create more space at the top of the shoe and near the sides of toes to help you avoid developing corns and bunions. You also get a shoehorn and handy carrying bag.
Cons: The plastic won't absorb sweat.
Buy: Eachway Shoe Tree & Stretcher $24.99BUY IT
3. Woodlore Adjustable Men's Shoe Trees
This pair is also made with naturally deodorizing and aromatic cedar wood for long-lasting freshness.
Pros: They come in five sizes to fit up to a 13.5 men's shoe and are also available in women's sizes. A split-toe design with a spreader plate adjusts to complete a range of shoe widths. A nylon pull string near the handle makes these units super easy to remove when you're done using them.
Cons: Some may find the edges a tad sharp.
Buy: Woodlore Adjustable Men's Shoe… $32.40BUY IT
4. The Original Shoe Tree Company Men's Shoe Tree
Made of premium cedar, these sturdy shoe trees are sweat-absorbing and odor-eliminating.
Pros: These also help prevent leather from wrinkling and cracking. This set comes with two pairs, each with laser-etched marking for the left or right shoe tree. An integrated spring coil provides light tension to fill your pairs. Each shoe tree also comes with an oversized travel bag.
Cons: Some may find them a bit larger than expected.
Buy: The Original Shoe Tree Company Men'… BUY IT
5. Florsheim Men's Woodard Cedar Shoe Tree
This cedar style is designed to naturally absorb moisture, acid and salts that accumulate with wear.
Pros: From a trusted luxury footwear brand, this pair will also smooth out lines that prematurely age leather. It features a split-toe design with a spring-loaded fit to accommodate various shoe widths. It also comes in a variety of sizes to fit men and women's shoes for versatile use.
Cons: Some may find them to be a bit too wide.
Buy: Florsheim Men's Woodard Cedar Shoe… $22.60BUY IT
6. Ambran Adjustable Shoe Trees
This pack comes with five plastic shoe trees that are easily adjustable and can fit up to a men's size 14 shoe.
Pros: They're designed to help avoid dents and collapsed top lines. They're lightweight and compact, making them ideal for traveling. The metal arms are flexible so as to not to damage the plastic. They're fit to support shoes made out of leather, suede, cloth, nylon, cotton and more.
Cons: The edges may be sharp to some.
Buy: Ambran Adjustable Shoe Trees $17.99BUY IT
7. Ollieroo Men's Shoe Trees
This sleek style is made with authentic red cedar wood, and should fit most men's shoes from sizes 8 to 13.
Pros: These trees dissipate moisture thanks to ventilation holes in the toe. Dual brass-plated steel tubes offer extra stability with an extendable width function to stretch as needed. A spring compression keeps a tight fit at all times, too. A brass pull knob at the back allows for easier removal.
Cons: These may run large.
Buy: Ollieroo Men's Shoe Trees BUY IT
8. Houndsbay Cedar Shoe Tree
The back of these clearly reads "right" or "left," so you know exactly which tree is made for which shoe.
Pros: A wide hook heel and spring-loaded function preserves the shape of your shoe's back with a handle for easy removal. The split-toe opens to adjust the width and prevent wrinkles in the toe box. And for an eco-friendly twist, the brand plants a tree for every pair purchased.
Cons: These may be smaller than other options.
Buy: Houndsbay Cedar Shoe Tree $19.99BUY IT
9. Lanney Shoe Stretcher
Heavy-duty, rust-resistant metal and durable plastic make up this pair of shoe stretchers.
Pros: Unlike wood shoe trees, the material of this stretcher reduces any mold or moisture build-up inside the shoe. It provides four-way extending capabilities to customize the fit of shoes and provide enough room to for bunions and unique insteps. The smooth surface won't damage the interior of your shoes, either.
Cons: This stretcher may be too long for certain shoes.
Buy: Lanney Shoe Stretcher $24.99BUY IT