Stratton Cedar Shoe Tree For Men – Editor's Choice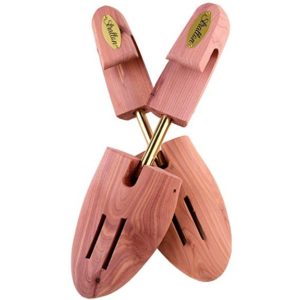 Key features:
Crafted using 100% natural premium red aromatic cedar wood
Fitting all brand sizes, lengths, and widths
Finished off with its elegant gold branded nameplates
| | |
| --- | --- |
| Pros | Cons |
| Preserves the original shape of the shoe | Shipping box is too big |
| Solid wood has a good smell | – |
| High quality looking logo | – |
| 100% natural premium red aromatic cedar wood | – |
Eachway Shoe Stretcher for Men and Women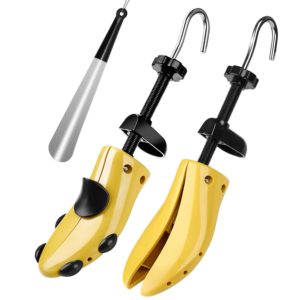 Key features:
4-way shoe widener expander
Work good with various of shoes
Durable materials (premium ABS plastic material with a strong steel shaft)
| | |
| --- | --- |
| Pros | Cons |
| It works with high heels | Design is very lacking |
| It widens EEE shoes | – |
| Provides 4-way stretching | – |
| Comes with set of 2 shoe stretchers, 8 bunion plugs, 2 heighten pads and 1 shoe horn, 1shoe bag | – |
Woodlore Adjustable Men's Shoe Tree Pair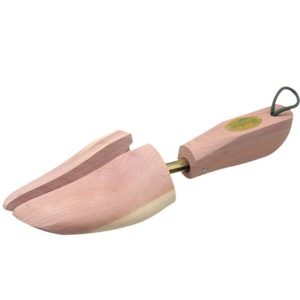 Key features:
Made in the USA
Made with steel hardware and nylon straps
Comes in pairs
| | |
| --- | --- |
| Pros | Cons |
| Made of aromatic cedar to absorb moisture and deodorize shoes | Hard to choose right size |
| Features nylon strap for easy removal | – |
| Well constructed | – |
| Highly moisture absorbent | – |
HOUNDSBAY Men's Cedar Shoe Tree with Wide Heel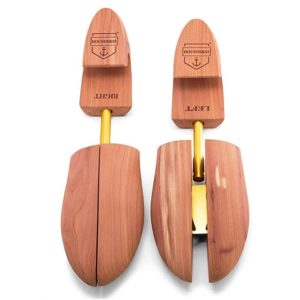 Key features:
Contains over 75% cedar heartwood
Extends the life of your shoe from the inside out
RIGHT and LEFT laser engraving
| | |
| --- | --- |
| Pros | Cons |
| Contains the maximum amount of natural aromatic cedar oil | Weak springs |
| Extends the life of your shoes | – |
| Wide heel with comfortable hook handle | – |
| Prevents wrinkles from forming | – |
Also read: 5 Best Leather Office Chairs
Stratton men's adjustable shoe tree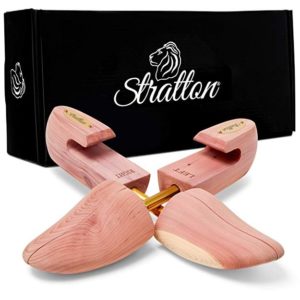 Key features:
Manufactured to optimize a long-lasting cedar aroma
Fitting all brand sizes, lengths, and widths
Cedar wood from American farmers
| | |
| --- | --- |
| Pros | Cons |
| Preserves the original shape, form, and length | Hard to choose right size |
| Providing the highest level of shoe care | – |
| Absorbs moisture and sweat to prevent natural odors from developing | – |
| Prevents wrinkles from appearing | – |
FAQ Shoe Trees
Is a shoe tree necessary to pick?
The quick response is yes, you certainly need such shoe trees. Constantly placing the trees inside the leather footwear can help preserve the form for your finest dress shoes, secure the leather by taking away moisture, and even strong odors.
It would be perfect to get a tree for trees in any pleasant pair of shoes you buy — no, you don't really require them in your sneakers — however, it's not completely important as long as you're changing your shoes and shoe trees all week long. Thereafter, shoe trees merely maintain the structure and assist with the suppression of bad odors.
Functions of shoe trees:
To absorb the excessive moisture naturally. To dry the lining of the shoes after wearing for a few hours you may need to use a shoe tree. Otherwise, the lining of leather shoes may start to rot and stink horribly.
To maintain the initial shape of the footwear. Also, the untreated leather shoes without the trees may get creaks and lose their shape;
Buying a shoe tree is definitely a few times cheaper than buying a new pair of shoes;
What is the reason for using a shoe tree?
A shoe tree retains a shoe in its right form such that it dries out properly, and by wicking out moisture prevents the leather from cracking. Often, the absorbent material tends to cure the inside of shoes so they don't rust from the inside out.Also read: 5 Best Swivel Knives for Leather
Even more critical than maintaining the form, shoe trees often play a key role in wicking away sweat-induced moisture-a significant cause of lining rot and leather deterioration. This is especially relevant if the shoes are worn without socks
Also, a good shoe tree holds the shoe in its proper shape so that it dries properly out and maintains the leather from bending by moisture absorption. Moisture usually makes the leather shoes smell bad, so a tree for shoes can definitely help.
How long should you leave shoe trees in?
Some experts claim that it is bad for the leather footwear to have the shoe trees in longer than 24 hours. You should slip the tree devices into the shoes after every wear. But it is better to air out the shoes, at least, for an hour before putting the tree devices inside. To let the leather shoes dry fully leave them in such a position for 24 hours, at least.
What can you use instead of a shoe tree?
Some people claim that using shoe trees is unnecessary and they can be replaced with old socks or underwear. These pieces of clothes can be placed inside the shoes when you travel. Yes, shoe trees can actually add weight to your luggage.
That is why stuffing everyday shoes with underwear and socks can really become a good temporary decision. However, more expensive leather shoes are worthy enough to be transported with wooden trees that perfectly keep the shape.
Are plastic shoe trees good?
Mostly all shoe trees are made of cedar wood or plastic. Cedar trees for trees typically serve longer than plastic devices. Also, they share a clean cedar scent with natural leather shoes. And wooden shoe trees may keep the natural shape of leather boots. Besides, they are able to absorb moisture.
All these benefits can't be expected if you apply plastic shoe trees. And the greatest drawback of plastic shoe trees for leather footwear is that the shoes won't breathe properly with such devices. And shoe leather should breathe to keep all its natural advantages.
However, plastic shoe trees can be used for any non-leather footwear because they have indisputable benefits:
Lightweight;
Portable;
Affordable;
Also read: 5 Best Shoe Brushes
In other words, you may need a plastic shoe tree during a vacation or business trip. So, it could be a temporary travel solution to keep your shoes' shape intact.
Are shoe trees bad for leather footwear?
Shoe trees are frequently picked to retain your shoes in shape while after a day of wearing they dry up. This is really necessary to put the trees in the footwear, and it should be performed on a daily basis. Cedar wood, the material picked to create most shoe trees, readily absorbs moisture and even provides strong odor prevention.
There are several shoe trees accessible on the U.S. market so when making a selection for the right shoe trees, one should be very patient. The improperly picked shoe trees can damage not just the footwear but also affect the foot.
Because of the standard shoetree's odd shape, the shoe's waist area is stretched and deforms outwards. The leather can spread over a long period of time to shape an uncomfortable hump which may be hard to repair.
Ideally, the tree's shape would be similarly resembling the shoe's shape. Make sure to fill up fairly evenly across the vamp areas when picking the shoe trees.
Do shoe trees stretch your shoes?
No. Top-notch shoe trees have been built to save the lining of the shoes and smooth the creases. These devices come with attachments for precise position stretching and can be put in various locations on the toe shape.
Shoetrees/stretchers are typically made from hardwood materials like cedar, birch, maple. They also have a solid metal rod that is transformed steadily to put additional pressure on your shoe. This sluggish friction stretches the shoe's leather and renders it cozier. The trees for shoes come with attachments for precise position stretching and can be put in various locations on the toe shape. For right and left shoes one stretcher can fit.
Can shoe trees fix creases?
Expert cobblers recommend picking top-notch shoe trees for the storage of normal footwear and leather shoes with creaks. They really help to smooth out and add rigidity to leather footwear that has seen better days.